Welcome to my Ipswich Town FC website
My name is Torben. I'm 46 years of age and I live in a Town called Herning in Denmark.
I've been a Town supporter since March 2000, and since then I have evolved into a hardcore fan.
My dad and I have always been huge fans of english football. Back in the late 70's  and early 80's we always watched english football every saturday on danish television. My dad's team back then was Stoke City, and my team was Manchester United. Fortunately that has all changed now. Now we're both Ipswich Town supporters. It all started by a coincidence actually. Being such huge fans of english football we decided that it was about time that we went to England to see a game live. A danish football paper called "Tipsbladet" was arranging short trips to premier league and first division regularly every season. So we decided to find a match and go along on one of their trips. All Tipsbladet's trips at that time were by boat from Esbjerg to Harwich. We ended up choosing Ipswich at home against Fulham on March 25th. 2000. We chose Ipswich 'cause it wasn't that far from Harwich, and it wasn't very expensive either. So Ipswich it was.
Man, what an experience. The atmos in and around the stadium was tremendous. The fish and chips stands, the merchandise stands, the polite nature of the people, Martijn Reuser scoring in the last minute in his debut for the club. It all added up to make it a trip we would never forget. I mean we were singing the blues all the way back to Denmark. Since that day it has been Ipswich all the way and will continue to be so in the far future.
Traditions have also seen the light of day over the years.
-We always go to a pub called "The Black Horse Inn" before the match and after the match.
-We always get a burger or fish and chips outside Portman Road before the match.
-We always visit the market at town square.
-"The Black Horse Inn" is our regular pub.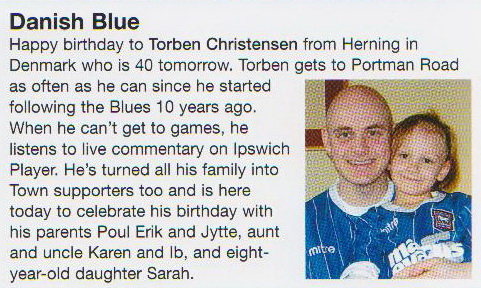 Taken from the official matchday program on 09-11-10 against Derby County

Taken from the official matchday program on 24-04-04 against Nottingham Forest