March 25th, 2000 was the day I fell completely and utterly in love with Ipswich Town FC, Ipswich as a town, England and English football in general. My dad and I were in England for the first time to watch a football match. We saw ITFC beat Fulham 1-0 at Portman Road. Since then I have turned into a huge fan of ITFC, England and English football and I go as often as possible (the only limit is money). I'm mostly interested in the Football League and non-league football.
Fortunately I have a family who also like England and English football (with a little help from me) and we all love to go there and watch football matches. We've been in Ipswich many times and London as well, and we've now begun to explore football grounds elsewhere in England. As a result, my daughter and I have made a deal, that we must visit as many football grounds in England as possible in our lifetime.
On this website I'll keep track of all the football matches I've been to in England. I've divided it into 4 groups. Ipswich, London, England and a section with an overview of Football grounds I've visited. Please feel free to browse around.
Danish Blues
Torben Christensen
Contact: torben@portmanroad.dk
Next trip to Ipswich:
Next trip to London:
Next trip to other grounds: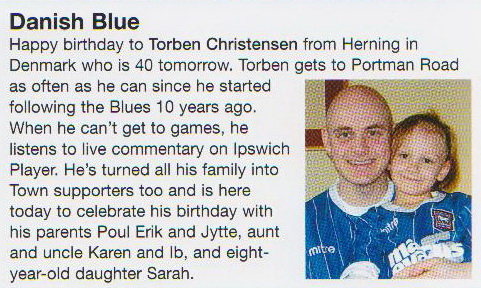 Taken from the official matchday program on 09-11-10 against Derby County

Taken from the official matchday program on 24-04-04 against Nottingham Forest